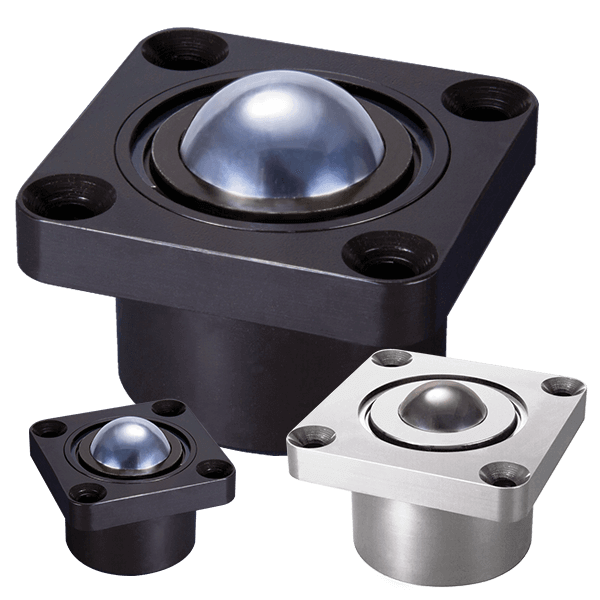 Sfere portanti Heavy Duty Serie 93 – con flangia superiore
Capacità di carico da

100 lbs a 10,000 lbs

46kg a 4550Kg

ciascuna – con ogni angolo di inclinazione
Flangie di fissaggio integrate disponibili di forma circolare, ellittica, quadrata a 2 o 4 fori

(34.9 – 145mm flangia quadrata)

Sfere portanti con sfera principale di diametro maggiore di

½"

12.7mm

sono dotate di guarnizione sostituibile.
Kit di manutenzione disponibili per estendere le possibilita' di utilizzo.
Le capacita' di carico rimangono invariate con le opzioni dei materiali (acciaio inox, A, Z) – vedi sotto
Non trovi quello che ti serve ? Chiamaci ora
Le sfere portanti della serie 93 comprendono una flangia inferiore integrata, ideale quando la base o le superfici di montaggio lo consentono. La versione 9310 dispone di 2 fori sulla flangia circolare, mentre la 9320 ha una flangia ellittica sempre con 2 fori per il fissaggio. Tutti le altre versioni dispongono di flange quadrate, Su richiesta possono essere realizzate flangie di altro formato con sistemi di foratura differenti.
Il minor coefficente di attrito e la miglior scorrevolezza ottenibile. Le opzioni dei differenti materiali sono mostrate qui sotto – ordina aggiungendo il suffisso al codice da richiedere. Ad esempio: 93419350 'SS' per avere tutti i componenti in acciaio inox.
Le capacita' di carico rimangono invariate con le opzioni dei materiali A, Z e SS
Omnitrack 93 series heavy duty ball units incorporate integral bottom flange, ideal when base or surface mount fitting is required. 9300 incorporates 2 hole circular flange & 9310 features elliptical 2 hole fixing. All other models incorporate square flanges. Alternative fixing centers or sizes are available upon request.
Lowest coefficient of friction & smoothest performance available. Material upgrade options are shown below – order by adding the suffix to the part number required, for example, 93419350 'SS' for all stainless steel parts.
LOAD RATINGS REMAIN UNCHANGED WITH STANDARD, A, Z & SS MATERIAL UPGRADES.

Low Friction
1: 0,005

Speed
2 m/sec 5 feet/sec

Temperatura
-30 to 160° C -20 to 320° F

Orientation
ANY

High Shock
Resistance

Drain/Debris
Channels

User
Serviceable