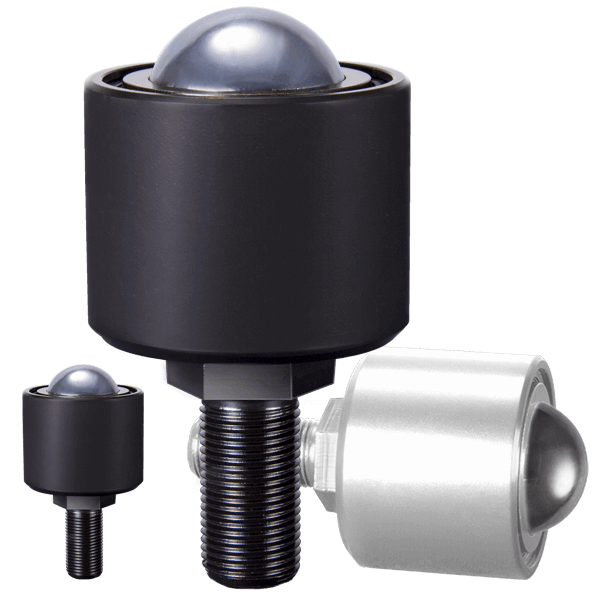 Sfere portanti Heavy Duty Serie 91 – Perno Filettato
Capacità di carico da

100 lbs a 10,000 lbs

46kg a 4550Kg

ciascuna – con ogni angolo di inclinazione

5/16" , ½", ¾", 1" UNF

M8, M12, M20, M24 & M30

(ISO pollici metrica e imperiale) filettature integrali per il fissaggio rapido e regolazione in altezza
Sfere portanti con sfera principale di diametro maggiore di

½"

12.7mm

sono dotate di guarnizione sostituibile.
Kit di manutenzione disponibili per estendere le possibilita' di utilizzo.
Le capacita' di carico rimangono invariate con le opzioni dei materiali (acciaio inox, A, Z) – vedi sotto
Non trovi quello che ti serve ? Chiamaci ora
Le sfere portanti Heavy Duty della serie 91 integrano un perno filettato realizzato dal pieno. Altri tipi di filetto di diverse dimensioni, sono realizzabili a richiesta. Il minor coefficente di attrito e la miglior scorrevolezza ottenibile. Le opzioni dei differenti materiali, sono mostrate qui sotto – ordina aggiungendo il suffisso al codice da richiedere. Ad esempio: 9144 9153 'SS' per avere tutti i componenti in acciaio inox.
Le capacita' di carico rimangono invariate con le opzioni dei materiali A, Z e SS
Omnitrack 91 series heavy duty ball units incorporate integral precision machined threaded stud fitting, other thread types & sizes available upon request. Lowest coefficient of friction & smoothest performance available. Material upgrade options are shown below – order by adding the suffix to the part number required, for example, 9144 9153 'SS' for all stainless steel parts.
LOAD RATINGS REMAIN UNCHANGED WITH STANDARD, A, Z & SS MATERIAL UPGRADES.

Low Friction
1: 0,005

Speed
2 m/sec 5 feet/sec

Temperatura
-30 to 160° C -20 to 320° F

Orientation
ANY

High Shock
Resistance

Drain/Debris
Channels

User
Serviceable